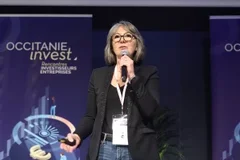 Occitanie Invest gives business leaders looking for funds an opportunity to meet capital investors.
In concrete terms, it combines a tailored fundraising support programme with a business convention, involving company pitches and one-to-one investor meetings.
Candidate Profile
Occitanie Invest candidates are SMEs or innovative startups based in Occitanie:
offering a unique product, process or service with strong growth prospects (in France and abroad),
looking for financial investors as part of an ambitious development strategy,
that have a healthy financial situation.
Key steps for future winning candidates
Fundraising support, targeted coaching
The one-month support plan for the winners focuses on two main areas:
to improve and enhance the firm's business plan and financial aspects. Coaching is provided by a specialist in fundraising for companies with high growth potential.
to maximise the impact of their presentation to investors. Coaching is provided by a communications consultant who specialises in supporting innovation and its financing.
Main stages of support
1. Debriefing and workshop on the keys to successful fundraising
Applicants receive detailed feedbacḱ on their application, helping them to improve their investor presentation. A workshop is organised to explain all they need to know about fundraising: who are the investors and how do they get involved? How should you organise your BP? What are the key aspects of preparing a pitch? What are the valuation parameters? How do you prepare a forecast?
2. Discretionary support with a fundraiser for one and a half months
We provide tailored support right up to the day of the event, so you arrive in front of the investors on the day in the best possible conditions: setting up the investor deck, reviewing the BP and financial elements, and drafting the executive summary.
3. Customised coaching to optimise the investor pitch
Successful candidates receive a working guide on the key aspects of effective investor communication and a presentation template that can be used directly for the investor pitch. This is followed by coaching and pitch training sessions.
Former Occitanie Invest winners talk about their experience
"For the company director, Occitanie Invest's support was decisive. "In addition to visibility, being part of the Occitanie Invest Selection gave our business venture credibility in investors' eyes. Moreover, it made us realise that fundraising is not improvised, and that it's crucial to have well-adapted presentations and to practice investor pitches. The training provided by the firm used by the AD'OCC agency to coach the companies was vital. I'm absolutely sure that as long as a company hasn't structured its approach sufficiently, it will find it difficult to raise funds. I'd recommend this course to any company looking for capital."
"Fundraising is a major step in the life of a startup and Occitanie Invest was a real opportunity for AquaTech Innovation. AD'OCC's broad and high quality support helped us to develop a successful oral presentation, which led to over 15 expressions of interest. Indeed, despite a very difficult context, Occitanie Invest was able to recruit a really interesting panel of local and national investors. Discussions are now underway to raise 1 million euros capital with the fundraiser we met at the event. Fundraising that at first sight may seem very complicated for a startup becomes affordable when you get the support you need to answer all the questions."